Bororen is located 490 kilometers north of Brisbane on the North Coast Line south of Gladstone. It was once a large dairy and timber community but in more recent times grazing cattle has become the more dominant activity. I have not been able to find an accurate date that the station was opened but I am confidant it was around the late 1890's.
The site has two features of note the first being the unused station on the southside of the tracks and the other in the stock yards on the north side. The yards were used to spell cattle and horses during long journeys by rail but changes in practices and faster tranist times have made the yards redundant.
The entire location is surrounded by an ugly chain fence constructed during the line upgrade in the mid 1990's and it does a good job keeping people out.
This is due to the fact that trains like the tilt units are allowed to do 160km/h through Bororen and other freight and passenger trains are allowed 100 km/h max.
This page features two videos linked to the photos in the gallery below.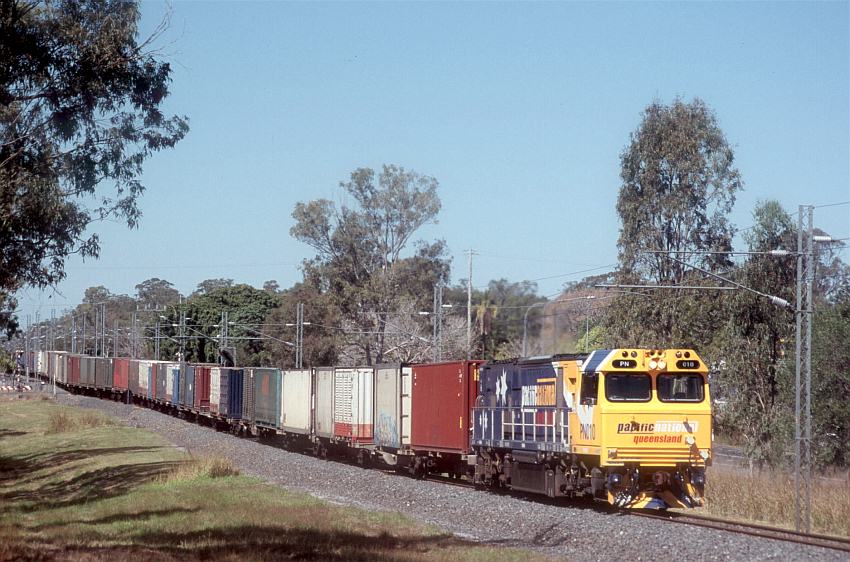 PN010 heads north out of the loop at Bororen after crossing with a southbound PNQ train headed by PN002 at 10.48. If you click on the picture it will take you to a video link for the cross.
10.54 23/08/05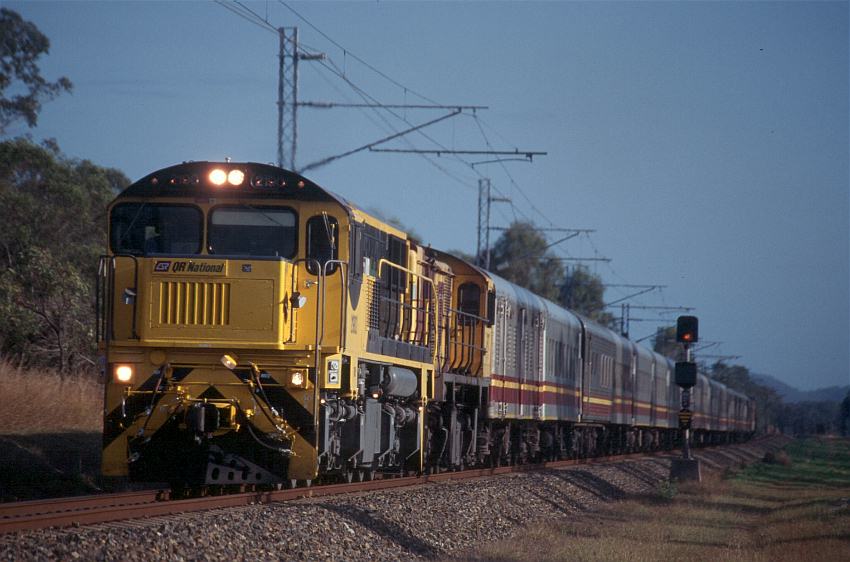 2190 in new QR National livery leads 1747 on the Sunlander as it approaches a level crossing as it heads south to Brisbane. This location is about a kilometer south of Bororen right next to the Bruce Highway. Click the photo for a video of this train rushing past. Wed 07/09/05 07.35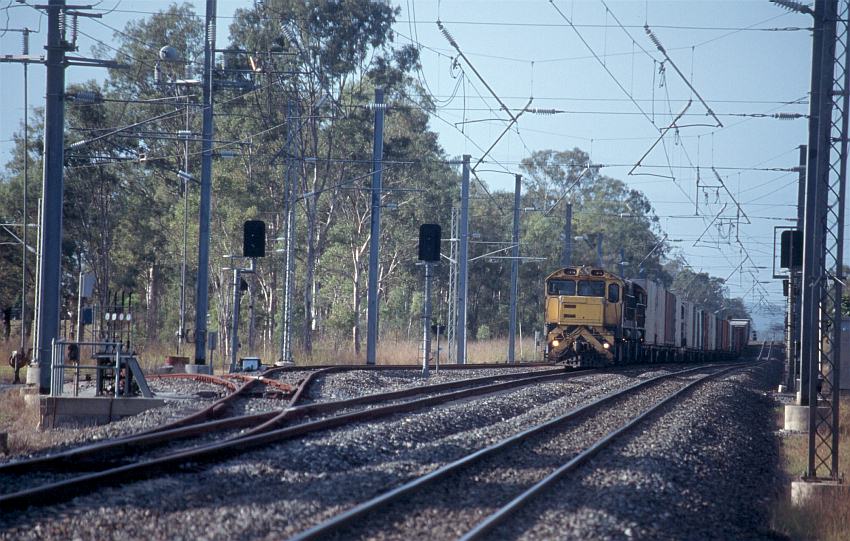 After arriving ten minutes before the Sunlander and taking the loop this northbound freight headed by 2314 and 2132F waits for the green to continue its journey.
To the left you can see the line leading to the cattle yards that were used to rest cattle on long trips.
07.39 Wed 07/09/05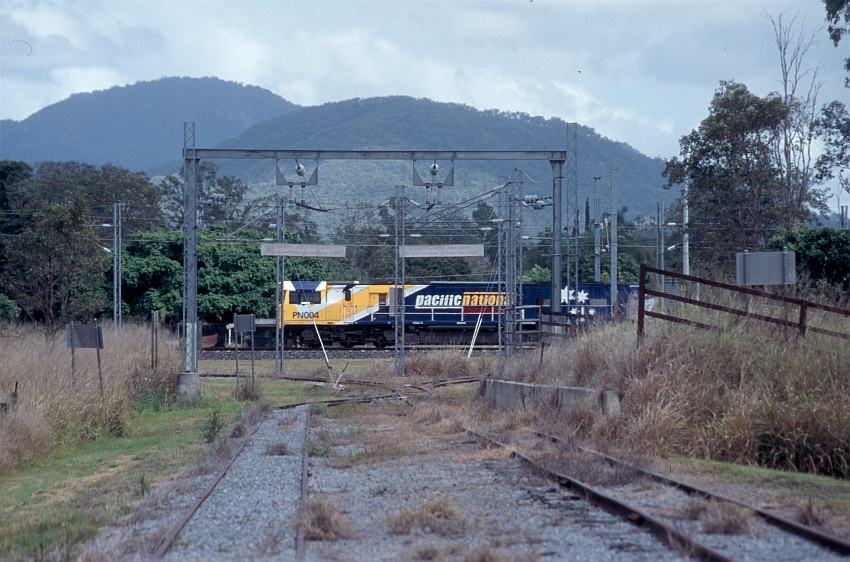 PN004 heading south about midway along the loop seen from the cattle yards. You may notice the trackwork allowing trains from either direction to load or unload stock and the overhead wiring to allow electric locos to serve the yards.
Tuesday 30/08/05 11.14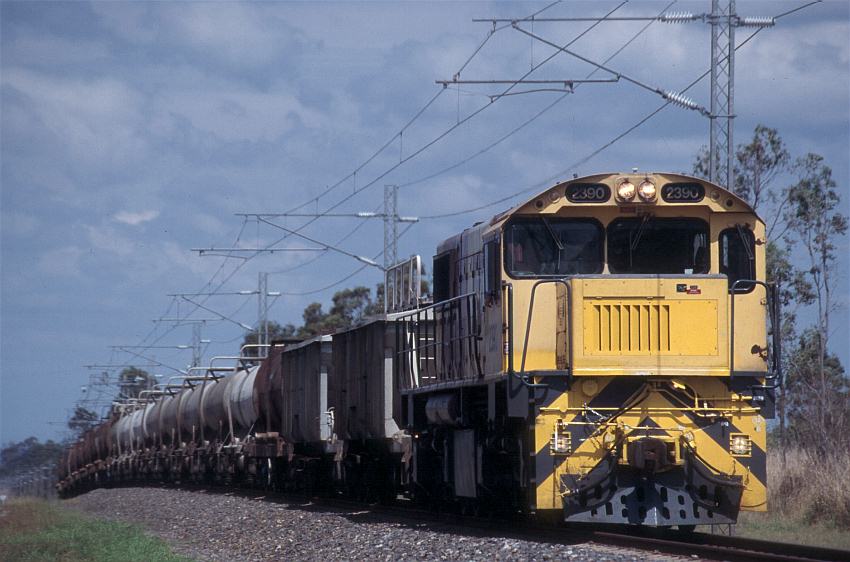 2390 nears the down approach signal at the same locaton as the shot of the Sunlander but looking south. It is hauling eighteen empty molasses wagons back to the north Queensland canefeilds. It took the loop to cross with a southbound train headed by PN011 at 12.34. If you look back down the line in the picture, the dip is the location of the next two photos.
12.32 Friday 15/09/05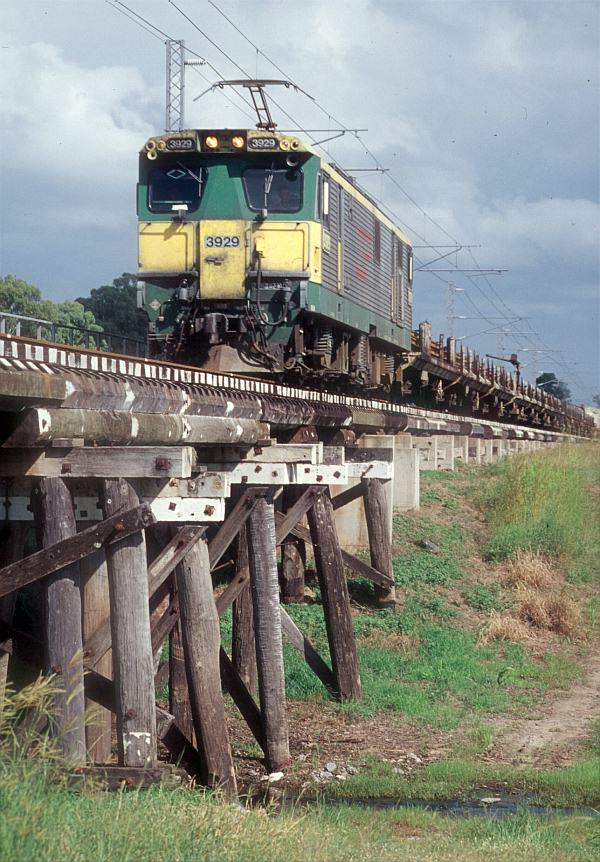 A 39 class loco hauling a rail train from Brisbane crossing the trestle at Three Mile Creek. You may notice the concretre reinforcements added during the line upgrade.
Febuary 2002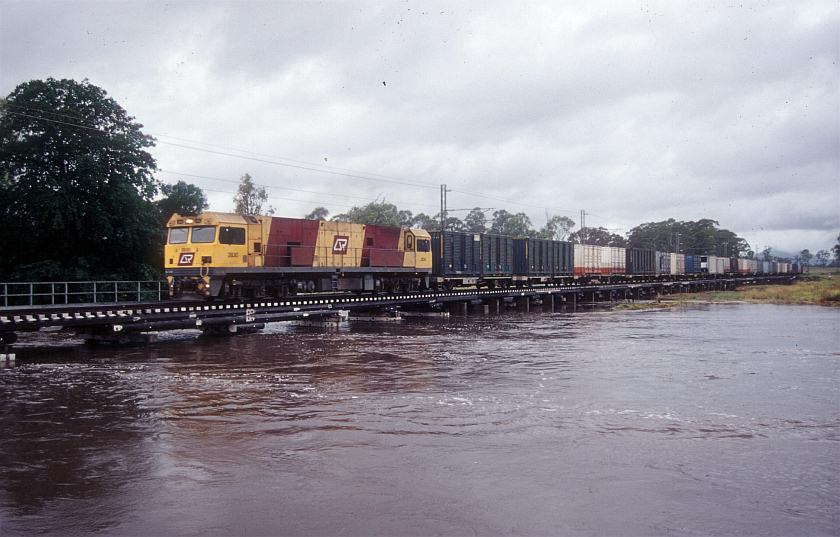 2830 slowly crosses the trestle at Three Mile Creek a few kilometers south of Bororen on its way north. The swollen creek is courtesy of ex cyclone Beni that dumped 400mm of rain in the area in a day and a half. Feb 2003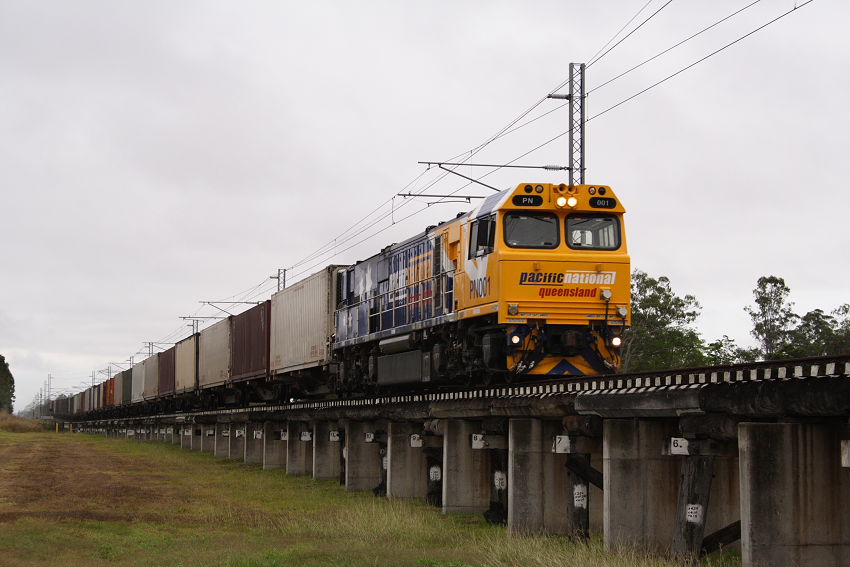 On it's way south PN001 leads its train towards the end of the trestle. Tuesday 18/10/05