Babinda is located 1622 km north of Brisbane and 58 km south of the city of Cairns in far north Queensland. The line was originaly built by the Cairns City Council to serve sugar mills to its south thus securing its position as the regions major port. The line to Babinda was opened in early 1910 and was later purchased by the State Government in July 1911 under the North Coast Railway Act. It retains its old style station building that still serves the Tilt Train and the Sunlander. The town is situated at the base of the range containing the states highest peak, Mt Bartle Frere.
Sugar is the towns lifeblood and the region is one of the most productive in the country. Tourism is also a major factor in the economy but much of the accomadation needs of visitors are met by Cairns.
As well as a station and crossing loop the site contains a loading track for loading molassas wagons and unloading sugar syrup from a mill on the Atherton Tablelands.
The Tablelands Mill at Arriga is about 140km from Babinda via the North Coast Line and the Cairns to Kuranda, Almaden Line. Trains are usually run during the night to avoid conflicting moves with the very popular tourist trains up and down the range from Cairns to Kuranda.
Like all the line north of Townsville the line is protected by Direct Traffic Control and various forms of signaling are used to protect sugar traffic crossing the line.
An excelent book on the subject of trains in the north is Exploring The Railways oF Far North Queensland by Brian Webber.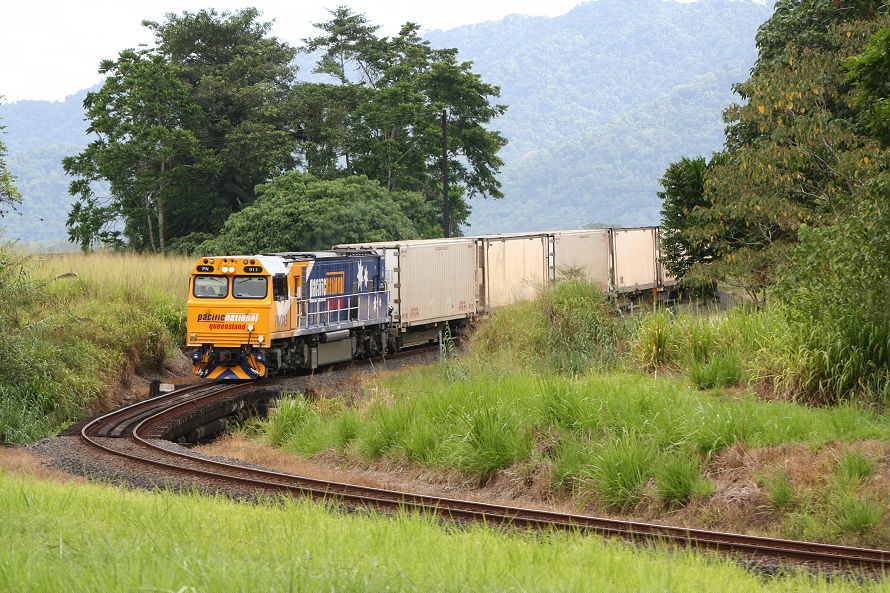 PN013 on a section of the NCL just north of Babinda that clearly displays the lines origin as a tramway to haul cane. The train is heading south to Townsville and will pick up more loading at Innisfail. 11/15/05 10.03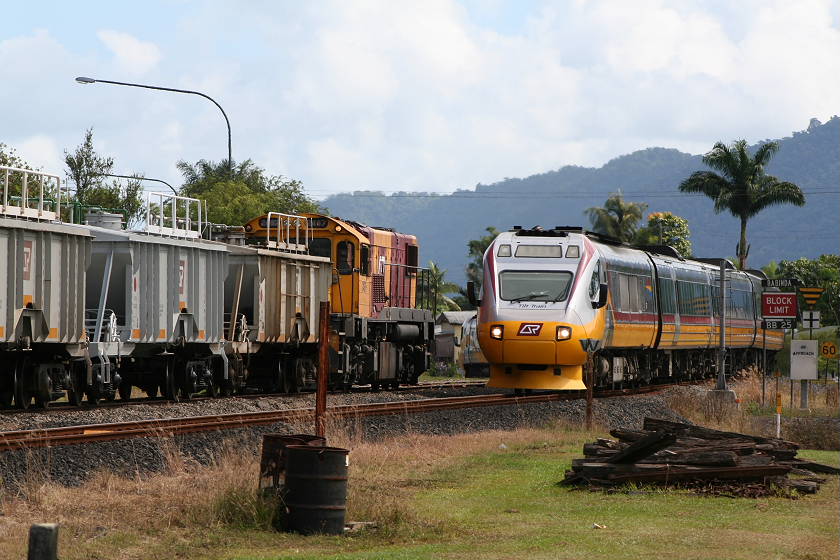 An empty syrup train with 2487 on the front waits in the loop after shunting out of the siding behind the photographer to cross the southbound Tilt Train.
13/11/05 09.28
A bit of info on the syrup wagons.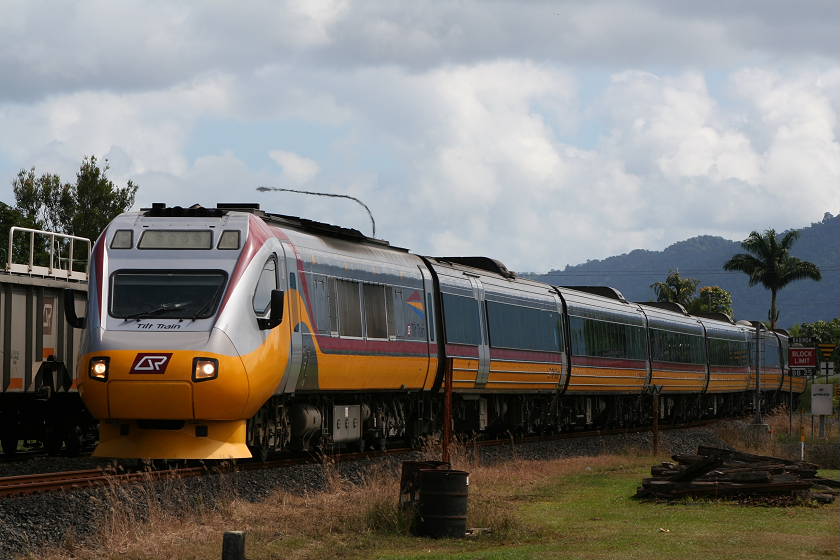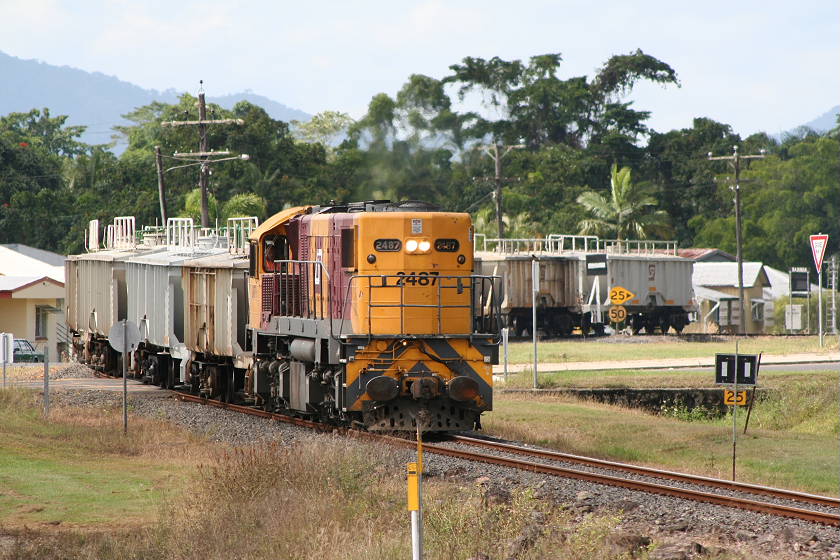 After a short wait for the Tilt Train to hand off some codes for the Direct Traffic Control processes the syrup train is bailed up by a sugar train crew. The crossing is just north of the loop and passes under the highway next to the railway line prioroty is controlled by a first come first served basis.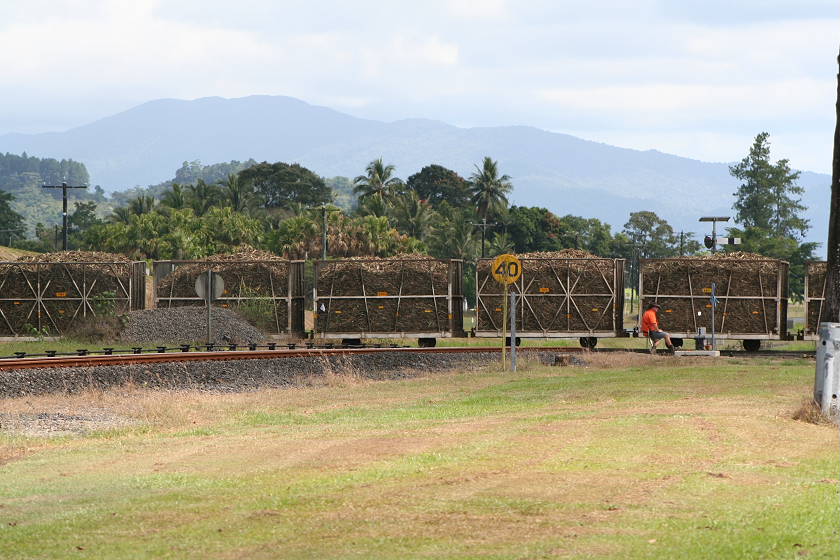 One of the tramway crew sits on the lever to close the derail at the crossing while his train passes.
One the line was clear the syrup train continued north to cross the train showed below at Deeral Loop (1636km). You may notice the solar panels on top of the semaphore signals to power the lights.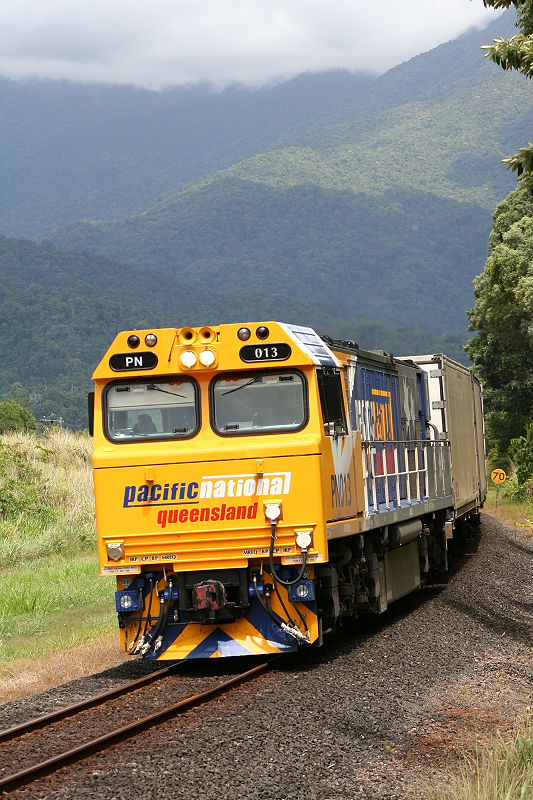 A southbound Pacific National train rounds the curve after crossing the Russell River with Mt Bartle Frere in the background. The photo below was taken at Josephine Creek which is located just above the loco cab in this picture and is a great way to end a hot day chasing trains. Click the photo for a video of this train. 15/11/05 10.25